Espresso
November 1st, 2021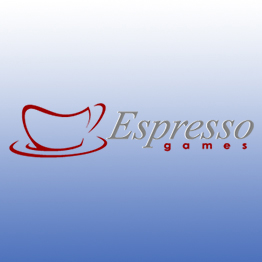 Established in 2002, British-Italian online casino software development company, Espresso Games, brought to life a unique blend of slots and casino games mixed with authenticity and functionality that makes their portfolio a class apart. They possessed a strong background from their land-based operations, before venturing into and mastering the iGaming arena.
Having endured a massive revenue loss in 2013 due to the bankruptcy and shutting down of one of their primary affiliates, Casinò di Venezia, this software development company had to reprogram their entire enterprise and let go of their live casino wing. Two years later, in 2015, Espresso Games was acquired by Italy based Talenta Game Studios, reestablishing the former as a prominent supplier of virtual games in the global map, including for many premier gaming sites in Australia.
As in 2019, Espresso Games provides entire casino platform development solutions.  Meanwhile, their HTML based slots and casino suites feature modular designs that are high on speed and client-side flexibility, giving all Espresso casinos ample room for choice.
A Comprehensive Casino Software Solution with a Modular Approach
This Macromedia based software platform follows a modular framework that actually let's all Espresso casinos choose and customise different elements, instead of getting a turnkey project. Their key technologies are :
3s Integration Module that facilitates fast setup and easy future integration of the entire platform or parts of it. Being a web application, this element is relatively new for many casinos that largely depend on the software developer to integrate their platforms, whereas, it allows casino operators to be more self-sufficient.
CyberBox is the back-end programming guide that basically allows casino operators to manage specific functions, such as promotional offers, user-specific bonuses, VIP clubs loyalty points, jackpots progression, and all the jazz. The user efficient 'back-office' gives the user the power to carry out a number of system and player configurations, without depending on a programmer all the time.
The Special Jackpots technology come in three different modules, including the world-exclusive 'Cross-Game Jackpot' system that allows casinos to organise jackpot tournaments with separate desktop and mobile configurations; the 'Multi-player jackpot' that allows players to compete with each other outside of a tournament, and finally, the Progressive Reel Jackpots that offer mini-jackpot gaming and tend to give players a quick game of luck with random but frequent winning potentials.
Furthermore, the developer has this special quality of putting a keen eye towards detail, a ready example are their user-friendly interfaces, descriptive user guides and play tables  that make them most welcoming for a novice player.
Casino Games and Slots
The Espresso Games portfolio focuses on slots, conventional table & card games and video poker, summing up to a cohesive catalogue of about 140 titles. The largest room goes out to the Espresso slot machines (or pokies as they often called in Australia) that are focused on modern concepts of thematic, high-quality graphical features. Plus, almost all online casino games for real money carry a range of unique bonus features that make them truly interesting, in an out of the box exemplary.
Some of the iconic Espresso pokies include Treasure Island, Cinema, Gold Race Deluxe and the currently released, Nebula. The other elementary casino inclusions closely follow with a small list of blackjack, baccarat and Casino Hold'em, along with 4 video poker variants, including Jacks or Better and Deuces Wild.
An Enriched Mobile Experience
Espresso has recently entered into the mobile gaming industry and now is producing HTML-based instant play features. You can't download anything; instead, you can access the Espresso online pokies and other casino games by logging in to a casino mobile site. The best part about this technology is that players can be free of device compatibility and drive space issues since this is a web-based platform that supports all sorts of devices, whether it's Android, iOS, Windows or even Linux. All you need is a flash player and good network speed.
Social Gaming
Online gambling is just entering into social networks like Facebook in a very steady progression. These networks don't allow real money gaming, but it's good for brands to garner more attention. There is sundry promotional content released by Espresso Games on social media. However, the software connoisseur still has not taken a mentionable initiative to launch any significant title or activity as of yet. However, given the speculative nature of their social media presence, it is perhaps a matter of time, before they release some Espresso free pokies for netizens.
Some Strategies
Espresso gaming products offer a number of unique and heavy features, especially the multi-player jackpot system, that make way for random and fair gameplay. However, the wins are still bent on luck, so having good knowledge about how the payout system works and having control over your stakes is a good start to play responsibly and avoid major pitfalls. A great way to learn about a real money game without staking your own money is to find yourself some no deposit bonuses that are often offered by online casinos.
Security
The Espresso Games licence is given by the UK and Italian Government and is constantly reviewed by third-party auditors for their randomness and fairness.
The modular approach of Espresso Games software platform creates great vibes of design diversity that has worked out really well for this software developer. There are a lot of new and exciting games to discover, and of course, the wide array of unique bonuses make way for some remarkable gaming experiences. The software provider has come a long way, with over 40+ years of experience. They will never let you down.
Top Pokies