Simbat
November 5th, 2021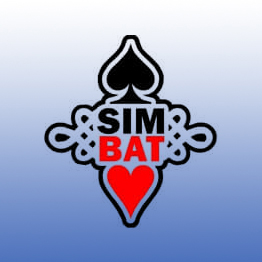 Simbat Entertainment is not the most common name in the online gambling business, which results from its limited focus on building a big brand for itself. The company hardly compares to top dogs in the industry, and one look at its website reveals that it is not in a hurry to have its services competing with them either. Even so, the firm has done enough thus far to stay afloat, which is why it still has titles that are worth taking a look at. The lack of any marketing strategy in place does not take away the somewhat thrilling nature of its games that can be accessed in both free and real money modes.
Not much is available on the background of Simbat casino software even on the company's official website. The only thing that one has to go by is the copyright post on the site that dates back to 2008, which indicates that the game developer has been in the business for a relatively long time. The website itself seems as though it has not received an update since and has been left behind by a long way considering how fast the internet realm is evolving. Navigation is conducted using command blocks that do not pay too much attention to aesthetics, which suggests their craftsmanship happened during simpler times. In contrast, most modern websites, even the simplest of them, offer smooth and slick navigation.
Company Features
Simbat Entertainment is not active enough to be listed as an innovative force in the gambling industry presenting various slots and free pokies games. Instead, the gaming company appears to be in place to provide players in Australia and around the world with more gaming options to indulge in on top of those that are already in place. Even so, its titles do carry some similarities that can be identified with the brand, and they include:
Simbat's slot machines portfolio is weighted with fruit pokies resembling those that covered casino floors at the beginning of the twentieth century. The games come in a classic built that fits the era to the tea, which makes them suitable for punters looking to engage in some old-school titles. Other themes are also dotted in the portfolio such as animals, but their numbers do not match those of fruit slots.
Most Simbat pokies carry three reels, which is in line with the classic times they are made to represent. In most cases, the playing grid shares the same screen as the paytable rather than having two separate pages. Some slots, such as Sweet 16 carry an unusual four by three grid, but still have the classic fruit theme. Five-reel pokies are included as well, but that is as modern as their craftsmanship gets.
Simbat gaming company is an avid provider of jackpots, and in some slots, they are made progressive. In slots like Cash Casino, Billionaires, and Golden Nugget, a pooled prize is offered that is fed by a portion of the winnings collected. Some of the fixed jackpot slots also have massive bonuses that reach as high as ten thousand times the placed stake.
Simbat Games
Simbat casino software provider has gone a long time without a new slot release since its last one made in 2015. With almost half a decade of dormancy in the online gaming scene, the active nature of the game developer is up for question. Nonetheless, up until going its last game, Simbat online pokies amounted to around two hundred titles, most of which are still accessible for gameplay. The somewhat popular ones in 2019 include:
Reel Magic Slot
Running Wild
Mummy Treasures
Moonshine
Kings Club
Jurassic Slot
Keep It
Hot Spinner
Grand Prix Slot
Gold of the Incas, etc.
Mobile Gameplay
Simbat may have been left behind on a lot of things, but not with the mobile gambling craze. Simbat mobile games are supported as easily as the desktop variations, which is done without the necessity of an app download.
Social Gambling
Social media platforms like Facebook have yet to be fully noticed as spaces where gambling indulgences can be accessed. Simbat is one of the many game providers that have yet to adopt social gameplay.
Gameplay Strategies
The most recommended way to approach Simbat games is to play them in demo mode before hitting the bank for real money play. With the dated nature of the games, Simbat free pokies help one determine whether or not they are worth the time investment considering how far gaming options have come.
Security Features
This software provider does not table information on its operating permits, but some second-hand sources point out that a Simbat license is sourced from Seychelles. If so, players are assured of their security when playing the games for free or real money.
The Bottom Line
Simbat online games do not suit the current fast-paced and cutthroat gambling industry considering their dated nature. Nonetheless, they give an authentic taste of what slots gambling was like back in the day. The titles can be played using no deposit bonuses, welcome offers, and reload bonuses given in Simbat's affiliate casinos.